The latest news from Timeshare Advice Centre and European Consumer Claims.
Tens of millions of pounds in timeshare compensation awards are currently being processed in the courts of Spain - the average claim being around £20-£25k.
As a result of this and the huge influx of new claims being processed, Timeshare companies are now getting desperate and agreeing to take ownerships back (provided they fulfil their criteria). However, what you must be aware of is that when you sign away your timeshare ownership rights you also waive your right to any claim against them.
These are the very same people that sold to you in a high pressure environment in the first place - These offers to hand back your timeshare may look rosy on the outside and then in the small-print, you will see the following clause or words to that effect:
"If you agree and sign this document, you will waiver your right to claim now or in the future"
In recent months, we have been informed that the major players in Europe Club La Costa World, Diamond Resorts, Anfi and others are trying to skirt around legal obligations and mis-inform their members in a tactic to encourage them to waive their rights to claim.
We asked M1 legal to reconfirm the factors that could lead to a successful timeshare claim...
Fractional Ownership
Points
Floating time
No specific unit information together with the date and time of check-in and check-out
No land registry information
No end date or end date exceeds 50 years (in perpetuity)
Payment of any monies during the initial cooling-off period which in some cases can be extended by 3 months.
Failure to issue full contractual information as required by timeshare law
The combination of these factors are explained in the victory reports which are published by M1 Legal – you can view them here: https://m1legal.com/our-victories
What you have to consider BEFORE making any decision is this: Are you prepared to throw away all the money you have invested so far?
In recent months, some resorts have found themselves in a terrible financial mess due to a high volume of judgements against them and have been forced to close their doors for good, the latest victim was Silverpoint.
IS YOUR RESORT NEXT?
On a recent victory, a Spanish judge stated that "Club la Costa World are a conglomerate of companies where the intention is to avoid the legitimate rights of the clients through the instrumental mechanism of diluting their contractual obligations and the ownership of the affected properties, with the purpose of hiding and protecting the solvent company that could comply with the obligations acquired... Therefore, the fraudulent use of all these companies with the purpose of causing damages to third-parties (clients) lead to the doctrine of lifting the veil". - This was also published as a press release and is viewable HERE:
TOTAL VALUE OF CLAIMS IN COURT BY RESORT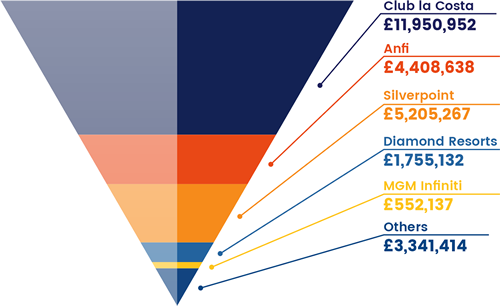 TOTAL VALUE OF COURT AWARDS BY RESORT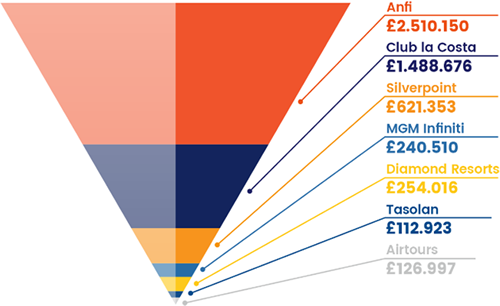 This is only ONE company – Imagine how many more timeshare claims are working their way through the Spanish legal system.
On a last note:
As we see no end to the COVID-19 restrictions being put in place and timeshare resorts still remaining closed these are desperate times, but mis-informing the very people who support their cause and still expecting payment of maintenance fees when owners are unable to use it?
WHAT ARE YOU GOING TO DO WHEN YOU RECEIVE YOUR NEXT MAINTENANCE FEE BILL?
For friendly timeshare advice - call today on 01491 529029
OR
Why not see how much your claim would be worth with our simple claims calculator. Click the button below to find out.