The latest news from Timeshare Advice Centre and European Consumer Claims.
WELCOME TO OUR SPRING NEWSLETTER
In this edition of our newsletter, we update you with our latest news and stories PLUS our legal associates M1 legal being included in a recent article in The Times!
FOOTBALL STAR'S LINK TO TIMESHARE "MIS-SELLING"
David Brown from The Times published a great article on Thursday February 21st 2019 in relation to famous footballers Ryan Giggs and Gary Neville commenting on their connection to a Maltese timeshare resort which is in the spotlight for mis-selling timeshares and related loan agreements brokered by unregulated introducers. Our legal associates M1 Legal were also mentioned being the lawyers that instigated the investigation on behalf of many Azure clients that they represent.
You can preview or read the full article if you are a subscriber to the Times by clicking the link: https://m1legal.news/thetimes
Below is a copy of the page as printed in The Times.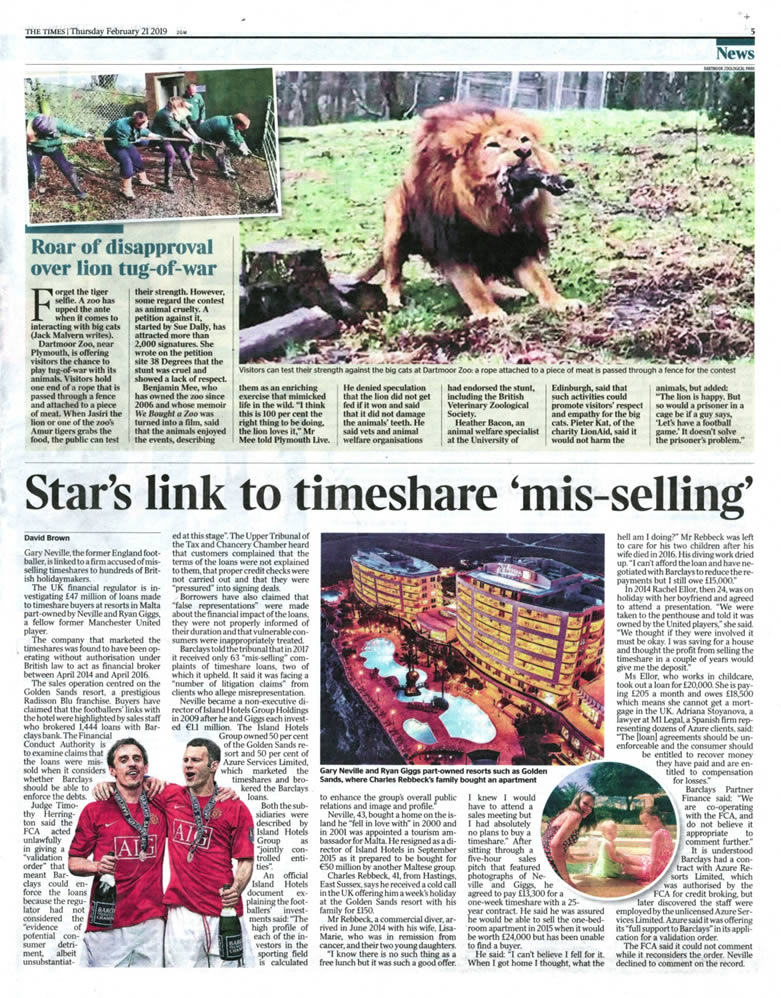 This story has received huge interest and as previously commented by one of our lawyers Adriana Stoyanova: "this could be the next financial scandal."
M1 LEGAL GOING FROM STRENGTH TO STRENGTH
Following on from the recent exposure in The Times, M1 Legal continue their battle against the timeshare resorts – below are some of their recent victories.

2019 started off well there being 11 victories during January and February totalling £157,328.
CURRENT ONGOING CASES
543 CASES IN THE COURTS
245 CASES BEING PREPARED
LATEST VICTORIES
Anfi Group £13,016 Awarded
Leisure Dimensions £16,283 Awarded
Diamond Resorts £17,597 Awarded
CLUB LA COSTA – JURISDICTION VICTORY
After an initial court decision that the case did not fall under Spanish jurisdiction, M1 legal appealed the decision which was reversed by the Malaga Court of Appeal. The defence argued that the case should not be heard in Spain claiming that the contract fell under English law. The appeal judge ruled that the Club La Costa (UK) PLC Sucursal en España is a Spanish entity and the case should be in Spain. This means that this case will now be re-submitted to the court of first instance.
DIAMOND RESORTS – JURISDICTION VICTORY
A similar case has been heard against Diamond Resorts, the contractual name being Diamond Resorts Europe Limited – Sucursal en España. Again the appeal judge ruled that this case is valid in Spain and can now be re-submitted through the Spanish courts.
CALA PI – MAINTENANCE FEES VICTORY
M1 Legal's clients had two contracts, Cala Pi Maintenance S.L. and Noarre S.L. The case was initiated by their resort Cala Pi processing a claim against the client for unpaid maintenance fees totalling over €12,000.
M1 legal stepped in on the grounds that the company pursuing the case was simply just the maintenance fee company i.e. Cala Pi Maintenance S.L. M1 also submitted a claim against the contractual party Noarre S.L.
The contract with Cala Pi Maintenance S.L. was dismissed on the grounds of no right or capacity to bring action to appear in court.
The contract with Noarre S.L. was found to be in perpetuity (no end date). The judge ordered Cala Pi Maintenance S.L. to write off the debt and the contract with Noarre S.L be deemed null and void.
Mr & Mrs Gough commented on their case:
"Cala Pi started a claim against us for unpaid maintenance fees, it ended up around 12,000 euros. It took some time but we expected that being a court case in Spain. M1 legal were totally behind us in defending us against one of these money grabbing timeshare companies. M1 went to court on behalf of us and our 2 contracts were quashed. We always pay our bills so having a company demand a substantial amount from us was extremely stressful. We cannot thank M1 Legal enough that this is now over and we can move on with our lives without this hanging over us. Mr & Mrs Gough from Derby."
M1 LEGAL IN THE PAPERS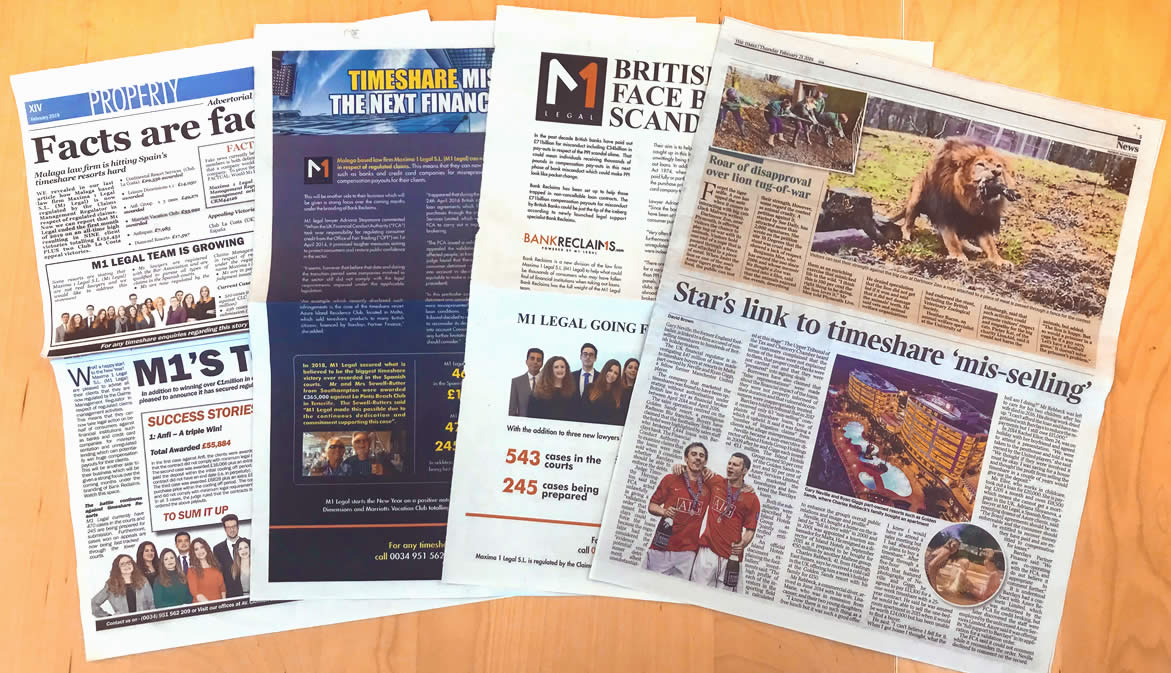 With all this exposure and publicity, there can be no better time to start your claim, Real people, Real results, Real rewards.
For more information you can call our advice line free on 0203 807 3388 or email pr@timeshareadvicecentre.co.uk